International shower solution specialist WEDI has recently entered the Australian market. Cameron Grimes takes a look at what the company has to offer.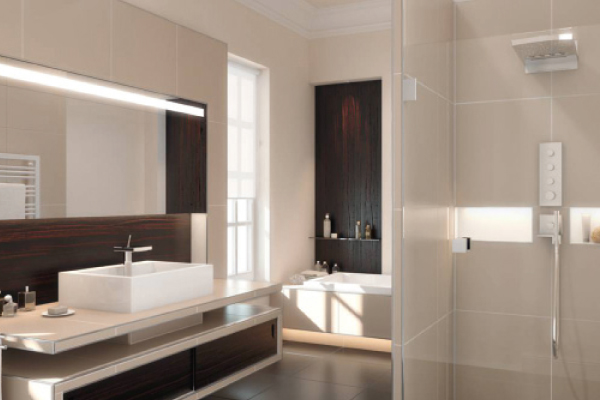 German-based WEDI is not a newcomer to the bathroom solutions market. Since the founding of the company over 35 years ago, it has expanded to sell its products in 36 countries worldwide and completes over 500,000 shower installations each year.
WEDI expanded into Australia in early 2017 with various distribution partners around the country.  The company's unique selling point is its tile-friendly, 100% waterproof foam material that aims to significantly cut down the time and complexity of installing new shower and bathroom facilities.
"The foam itself is what's waterproof. All of the WEDI board, shower bases, niche seats; everything they make is made out of a waterproof material," WEDI VIC business development manager David Millington says.
WEDI VIC is the distribution partner for WEDI in Victoria, Australia.
"The beauty of the system is its simplicity," he adds.
WEDI's products aim to eliminate the need for multiple people involved in the installation of the foam."Any tradesperson can install WEDI. You only need one point of contact," David says.
"The water proofer can do it, the carpenter can do it, and even the tiler can do it."
The WEDI joint sealant that is required complete the installation WEDI system is an MS polymer sealant, which is also waterproof.
"What you end up with is a standard shower that you can install in about three hours, which you can tile on straight away," David adds.
The WEDI shower systems can be cut with regular tools, such as a handsaw, circular saw or just a Stanley knife. During the sizing process, the foam emits no harmful fumes and is free of any volatile organic compounds (VOC), chlorofluorocarbons (CFC) and hexabromocyclododecane (HBCD).
If the WEDI foam is accidentally penetrated by a sharp object, the waterproof nature of the foam prevents it from wicking water.
"Even if you pierce the surface, it will not affect the waterproofing of the wedi system, which often is the danger in conventional installation methods," David says.
"You could leave the water under there for the next century and it still won't go anywhere."
In the event of the foam needing replacement due to the removal of a damaged title, installers are able to remove the attached tile cut directly into the WEDI board and replace with an identical sized piece.
"Replacement is better than doing it traditionally, because there's no way to cut into a traditional membrane and seal that membrane," David says.
"You can even tile the board before you put it on and just grout it up."
While WEDI VIC has yet to complete any large-scale installations of its product, the company has completed several steam room installations at high-end casinos and hot springs.
"The biggest challenge with installing WEDI in major projects such as apartments is getting in during the design stage of the project," Dave says.
"If you've already designed and completed all your bathrooms through another provider, WEDI won't be as effective for you.
"Hotels are the perfect situation for the WEDI shower system, because your rooms will be out of action for so much less time.
"For example, you could strip the floor out and install WEDI on a Monday morning and you can start the tiling by Tuesday."
As its products are relatively new to the Australian market, WEDI itself provides training sessions for installers.
"WEDI Australia offers a free two-hour training session then a firs time install assist. If you want me out on site, I'll come out there and go through the first install in Melbourne," David says.
"Cost wise, it's about the same cost to install WEDI as it is to install a traditional system."
WEDI Australia offers a 10-year installation warranty, as well as a further 10 years for the product itself.
While he has only recently joined WEDI VIC as its business development manager, David strongly believes it will revolutionise the Victorian bathroom installation market.
"I have no doubt this will be the way forward. I've never worked with anyone that's used WEDI and has wanted to go back to the traditional methods.
"It's so much easier and so much faster – it's what WEDI do. They don't try and branch out and be fancy anywhere else, it's just waterproof systems."
WEDI VIC
WEDI Australia
*This article first appeared in the summer 2018 edition of Building Connection. Click here to subscribe.