As extreme weather patterns become the norm, it is increasingly important to preserve water supplies. Adelle King looks at how 'air to water' technology is helping to do this.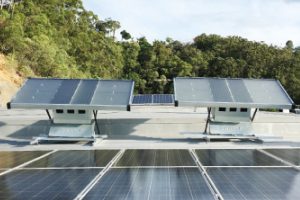 Across Australia, rural areas are continuing to experience severe drought conditions, with parts of NSW and Queensland facing the worst drought since the 1960s. NSW is now 100% in drought, which means that the entire state has been classified as being in some form of drought by the New South Wales Department of Primary Industries, while two-thirds of Queensland is in drought or drought-affected.
Former Prime Minister Malcolm Turnbull told Parliament in August that the NSW drought risked becoming worse than the 1965-68 drought that destroyed the rural economy and slowed Australia's exports. This seems increasingly likely after the Bureau of Meteorology (BOM) warned earlier this year that there is approximately a 50% chance of El Nino (a warm phase) forming in 2018, which is double the norm.
It's not just Australia facing tough drought conditions either, with Cape Town in South Africa recently facing the prospect of becoming the first major metropolitan city to run out of water. In August this year, the clock on Cape Town's water dashboard was predicted to reach 'Day Zero', the day the city will run out of water. Although this estimate has now been pushed back to 2019, it emphasises just how important it is to find new ways to generate water.
One of these ways is to use 'air to water' technology, where water vapour (humidity) in the air is converted to water.
US-based company Zero Mass Water was recently awarded $420,000 in funding by the Australian Renewable Energy Agency (ARENA) to bring this technology to Australia as part of a nationwide demonstration project this year. Between March and July, 150 of the company's SOURCE Hydropanels were installed at sites around the country, including Perth, Sydney and Adelaide.
"We have been overwhelmed with the feedback from the project hosts. The majority of them have dramatically cut back on bottled water consumption and we have proven the performance and impact of our technology across a wide range of applications including homes, farms, schools, restaurants, offices, parks, community centres and even an eco-resort on Lady Elliot Island in Queensland," says Zero Mass Water executive vice president of global business development Rob Bartrop.
"We are seeing a lot of follow-on activity in most of the segments identified, particularly with the current water challenges in drought-stricken NSW."
The SOURCE Hydropanels extract water vapour from the air, which is then drawn through the company's proprietary hygroscopic materials and can connect to any tap including a designated drinking water faucet, a dispenser or a refrigerator. The middle strip of the SOURCE Hydropanel is basically a standard solar panel, with solar thermal panels on either side to power the process of extracting water vapor into the hygroscopic materials and converting it to liquid water.
"Using both solar and solar thermal technology, SOURCE converts water vapour into pure liquid water, which has very similar properties to distilled water. The water is captured in a 30L reservoir where it's mineralised with magnesium and calcium," says Rob.
The SOURCE Hydropanels are designed to work in a wide range of climates, including arid, humid, polluted and remote locations. They have a physical footprint of only 2.8m2 and are currently being installed across a variety of geographies to demonstrate the performance of the technology in a range of environmental conditions.
Zero Mass Water, which is distributed by Array Energy in NSW, Queensland, Victoria and the ACT, and by Wilco Electrical in Western Australia, South Australia and the Northern Territory, developed the technology over six years at Arizona State University.
Designed specifically for drinking or cooking to offset bottled or filtered water, each SOURCE Hydropanel can offset up to 50,000 PET bottles in its lifetime.
Each panel produces approximately 2-5L of water per day and arrays are customised based on the customer's needs. Similar to solar, Zero Mass Water does an assessment of the site and the water consumption needs before designing the array.
Additionally, SOURCE is completely off-grid and self-contained, with no pipe input, electrical input or infrastructure required, making installation simple.
"Once on-site, each Hydropanel is assembled in about 30 minutes. Connecting to a tap is done by simply running a standard tube through the walls and connecting it to a tap or dispenser, meaning that typical installations take less than half a day," says Rob.
"A key attribute of our technology is the absence of the need to connect to water or power infrastructure, which allows 15-year water infrastructure to be delivered with the speed and convenience of a household appliance."
Maintenance is also simple, with air filters needing replacement every year, while mineral blocks need to be replaced every five years.
*This article first appeared in the summer 2018 edition of Building Connection. Click here to subscribe.