Tradies get on their bikes for mental health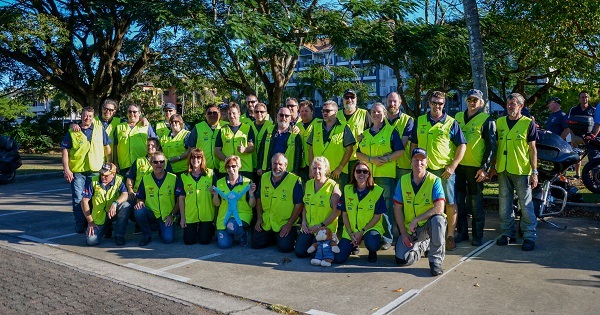 A group of 25 plumbers and electricians, from Australia and New Zealand, will take on a 3,500km motorbike ride at the end of the month to raise funds for Beyond Blue.
Members of the Laser and O'Brien electrical and plumbing groups will be joined by five time Bathurst 1000 champion Steve Richards when they leave from Luna Park in Melbourne on Wednesday May 29. They will be waved off by Minister for Mental Health Martin Foley.
The route will take in a loop of Victoria, sending bikers down the Great Ocean Road to their first stopover at Mount Gambier. They will then make their way along the Murray River before returning to Melbourne via the Snowy mountains and Gippsland.
Beyond Blue is an independent charity that works to raise awareness of depression, anxiety and suicide prevention, reduce the stigma surrounding these issues and to encourage people to seek support when they need it. With one-in-eight Australian men to experience depression and one-in-five to experience anxiety during their lifetime, mental health is a cause that plumbers and electricians of the group are passionate about.
Laser Electrical Lilydale managing director Mark Hailes has led the charge for the ride, saying: "We know that men are less likely to seek help for mental health issues than women are, and this was the primary reason we started the ride. As well as raising funds and awareness for Beyond Blue, just as important is that on the ride, we get blokes talking, something which we know blokes simply don't do enough."
He explains how his own father had struggled with depression and he felt powerless to help. He also cites the Postie Bike Challenge from 2014 that raised $127,000 for Beyond Blue, saying it helped him to see how much could be achieved as a group, and motivated him to do more.
Mark says: "In 2017, we got together again and rode from Melbourne to Cairns, raising over $132,000. This year, we're joined by a group of riders from New Zealand who is raising money for Lifeline which is fantastic. It's great to be able to help the organisations that are there for us, and at the same time support the men in our immediate groups who could be having a hard time."
O'Brien Electrical and Plumbing director Steve Keil points out that 13.3% of Australian men aged 16-85 have experienced anxiety and/or affective disorder in the past 12 months – approximately 1.26 million men.
"Tradies, or men in blue collar jobs, have some of the highest suicide rates in Australia with construction workers affected at double the rate of any other occupation. That's our workplace and we're not happy about the numbers, so we're doing what we can to raise funds and awareness by supporting Beyond Blue," says Steve.
The Laser Group has raised over $300,000 for Beyond Blue since their first ride in 2014 and has kicked off the fundraising with over $10,000 raised so far.
Donations can be made at: everydayhero.com.au.