Angela is challenging stereotypes in "bloke's job"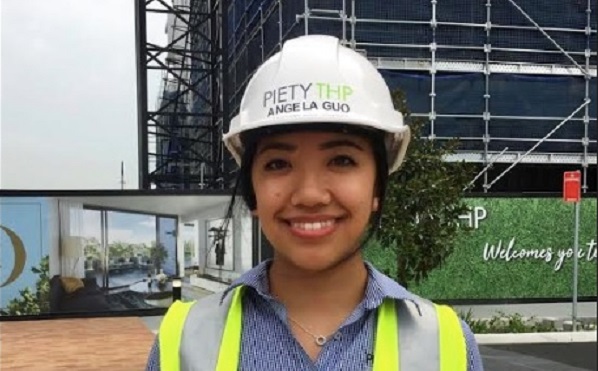 A 20-year old construction cadet is encouraging women to break stereotypes and experience the industry that she has thrived in thanks to property developer PietyTHP.
Angela Guo, from Lidcombe, has learned the power of mental resilience early in her career as she has had to battle negative stereotyping and backlash for wanting to do a "bloke's job".
She says that people are, for the most part, shocked to hear that a "small-framed, young girl" is working in what is perceived to be a "rough industry".
She says: "I get discouraging comments like, 'oh, that's a tough career', or 'I don't know any women in construction management. But it's all about mental resilience and believing you can. I usually just remind myself that gender should never be the factor stopping me from doing the things I love. At the end of the day, if you can get the job done, no one will be questioning your ability."
Despite the adversity, Angela is hungry to succeed in the construction world. She is intent on improving gender diversity in the sector and demystifying stereotypes while working as a development and construction cadet at PietyTHP. The company runs a cadetship program that supports diversity in gender, culture and age, exposing young people to an end-to-end construction process. This includes exposure to the initial planning stages, ground works to delivering world class buildings.
Nigel Napoli, from PiethyTHP, says: "We believe in fair opportunity – no matter who you are, or where you are from. Once the hard hat goes on, everyone is on an even playing field, all that matters is quality workmanship and a client first attitude. We pride ourselves on having a gender diverse workplace, and attracting young talent like Angela. We will continue to work towards bridging the gender gap in construction."
Angela credits her success to a supportive management team, her go-getter attitude, and building the 'mental muscle' from a young age. She encourages women thinking of getting into construction to take the leap, be confident, visualise success and tackle any challenges strategically, in "bite size chunks".
She says: "Getting into the construction industry is the best decision I've ever made, and I don't see myself leaving at all! It is the perfect mix of challenging and exciting – I want more women to break stereotypes and experience the industry."