Creating capacity to improve outcomes
Dr Darryl O'Brien proposes a framework to improve the current situation when it comes to building failures and help restore community confidence in our sector.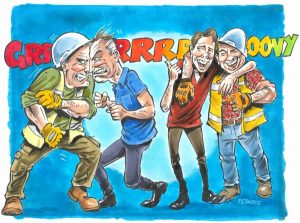 The recent structural defects manifesting in the Opal Tower has served to sharpen both community and regulator focus on serious failings in the construction sector.
There is some evidence that the issues with Opal Tower point to broader systemic failures in existing construction processes. These failures have had the effect of potentially exposing the community to heightened risks characterised by a failure to provide fit for purpose buildings. The thing is, identifying problems after the horse has bolted is easy but proposing sector wide strategies to address these challenges is more difficult.
In this article I wish to propose a framework to improve the current situation and help restore community confidence in our sector. While this model will not deliver all the answers, it will perhaps provide a starting point to discuss and develop effective strategies to improve existing construction processes and outcomes.
In my view, the first stage in improving processes is to recognise that consultants and trades often operate in isolation from one another. Further to that, it seems as though the larger the project the greater the separation between parties.
As all consultants and trades should be seeking the same goal (a fit for purpose building) what we should be demanding is cooperation, not segregation. So how is this to be achieved?
Firstly, a broad framework for improving outcomes must involve a three stage process:
The product supplier or designer (architect, engineer or specialist consultant) must provide detailed documentation to all relevant parties to the project. We could call this aspect the burden of proof. The documentation provided must provide sufficient detail for the construction of the project – no guesswork please. We could call this aspect the standard of proof.
Any proposed substitution or variations must be discussed with and agreed to by all parties prior to implementation. Modern construction is a holistic process that is more about component assembly that bespoke craftsmanship. Thus one change may have significant effects on other seemingly unrelated components. It is thus vital that the builder research and discuss with relevant trades and consultants the possible effects of variations prior to implementation.
Independent ongoing auditing is required to ensure both material quality and correct instillation practices. This can include additional inspections beyond that mandatory stage inspections or even contacting the technical rep for the product to ensure you are installing it correctly.
Two mantras that you should remember are 'if in doubt, ask' and 'best practice, not minimum standard'.
Once you've implemented these three steps, what else should you do? Critical to the success of any project is to develop a risk management model.
A core component of such a model is to identify knowledge gaps and develop strategies to build flexible capability. Skills necessary to successfully risk manage construction projects in the 21st century include an ability to move beyond traditional core competencies and the capacity to adapt processes to manage new designs or materials. It is the development of flexible capability that will allow builders and sub-contractors to provide quality, fit for purpose buildings.
But what specific qualities would you need to include in this model? The first step would be to identify significant hazard1 points on the project. This could be where an unfamiliar design or new type of building material is being proposed for the job.
Identifying significant hazard points allows the relative project risks to be triaged; greater resources can be devoted to ensuring that these high risk aspects are effectively managed.
Indeed, the recently released Australian Building Confidence Report identified the core attributes of such a system where it is recommended that 'Notification points should be agreed to ensure that the design for each stage is properly documented and presented to the building surveyor for approval before any work for that stage commences.' (Shergold & Weir, 2018, p.31)
To be effective, this system must be consistent across all parties involved in the construction process and continue through the planning, construction and handover stages.
Identifying hazard points collaboratively will ensure that all relevant information is available and decisions are made with comprehensive knowledge of the potential risks. Thus the best solution is selected for each notification point and importantly, this solution is communicated consistently to all relevant parties. It should be emphasised that such a model is situational and not general. The actual design of the model will reflect the specifics of each project.
While organisations involved in the construction of a building operate from a common knowledge and value base (such as the Building Code, relevant Acts and Regulations), the individuals involved may seek different objectives (reduced construction time) and goals (increased profitability) from the same project.
This environment can create risks where some may seek to improve their profits by cutting corners. This is an example of the risk that the community is exposed to if a model such as described is not implemented. However, by developing a risk management model that involves all parties in the design and construction process, relevant notification points can be agreed upon, risks triaged and incidences of non-conformance reduced.
This process may require additional time and increased costs, but to this point I'm reminded of a quote from Derek Bok, former president of Harvard University who said "If you think education is expensive, try ignorance."
As applied to the construction process we can't afford not to improve – the community and regulators expect it.
[1] Significant hazard points are stages in the construction process where likely hazards are identified and risk management strategies developed to minimise or reduce the hazard.