Window & door framing materials – aluminium
Gary Smith takes a closer look at aluminium window frames.
Windows are possibly the most complex and interesting elements in the fabric of our homes and buildings. They provide light and fresh air, and offer views that connect our interior living spaces with the great outdoors.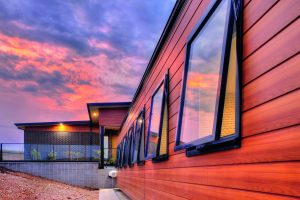 There are many important things to consider when purchasing windows and doors for a new building or renovation. Whilst the style, size and cost of a window are important factors, there are also a number of other considerations, such as durability, energy efficiency, acoustics, maintenance, compliance and water tightness, that are important in the decision making process.
Under the Building Code of Australia, all windows and sliding doors must meet mandatory minimum specifications under Australian Standard (AS) 2047. This standard specifies the minimum requirements for design, selection, materials, construction, corrosion protection and installation of windows and sliding doors installed in the external walls of buildings. This ensures that all windows are made to withstand Australian conditions and are fit-for-purpose.
The various components that make up a window, such as the frame, glass, seals, and any spacers, work together to provide the deflection, operation, air infiltration, water penetration, strength and energy performance of a window system. Changing the individual components within a window system will ultimately affect the performance of a window.
In Australia, there are a number of framing options available – including aluminium, timber, uPVC and fibreglass.
Spotlight on Aluminium Windows
Lightweight, versatile and durable
Aluminium, when mixed with small amounts of other metals (particularly magnesium) to create alloys, is extremely strong. Weighing only one third of a piece of steel that is the same size and shape, aluminium windows are lightweight, strong, durable and easily formed into complex shapes.
There are a large range of aluminium windows and doors available in Australia. Some are characterised by slim framing sections, which optimise the visibility area relative to the wall opening, and others are designed with larger framing sections, imitating the look of other materials, such as timber.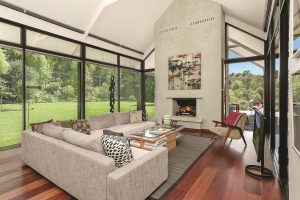 Aluminium windows are available in anodised and powder coat finishes that are extremely durable and need little maintenance. As a popular and economical frame choice, aluminium windows come in a wide variety of colours to complement your home or project.
Due to their light weight, aluminium windows are easy to handle and installation requires minimal labour. In addition, they require minimal maintenance and are easy to look after.
Naturally impermeable for protection
Aluminium forms a natural film on its surface upon exposure to oxygen. This film is called aluminium oxide and it protects the surface of the aluminium. If this film is scratched or damaged, it will instantly reform. It is only under certain conditions and exposure to certain elements that aluminium will corrode. Plus, aluminium is impermeable – keeping air, light and microorganisms out.
100% recyclable for endless reuse
Due to its unique combination of strength and corrosion resistance, aluminium is a particularly durable material. Plus, it is 100 per cent recyclable.
Recycling aluminium does not compromise any of its unique properties, and uses only five per cent of the energy used to create the original product. Aluminium can be reused endlessly – approximately two-thirds of all aluminium ever produced is still in use today – representing a growing 'energy and resource bank'.
Thermally broken and energy efficient
A thermally broken aluminium frame includes a thermal break in the frame. The thermal break is a non conductive element that has been applied in the centre of the framing system to stop the flow of energy through the product. Thermally breaking the frame lowers the U-value (the rate of non-solar heat loss or gain) and provides increased energy efficiency measures while maintaining the benefits of the aluminium. Some thermally broken systems give the option of a different internal and external colour.
There are many new window design types that are available on the market to improve the energy efficiency of aluminium products. These include aluminium clad timber products, uPVC clad aluminium products and thermally broken products.
There are many different window and door designs available with a vast variety of features to choose from. As some of the higher value items within a building, it is important to select windows that are fit for purpose and compliant, as well as considering their effect in the liveability of a home or building. For more information, please visit https://www.awa.org.au/