Stabila's latest spirit levels
Stabila Australia has released an easy-to-grip spirit level with reinforced ribs. The levels provide accurate measuring in all positions – 2 measuring surfaces, suitable for reverse position measurements. End caps with anti-slip stoppers also make for a firm seat when marking.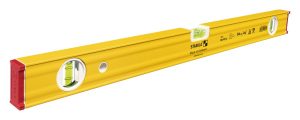 Replacing the 80 A series, the 80 AS series enhances the functional scope of its predecessor, while delivering the same long-lasting accuracy, easy grip and a long service life Stabila levels are known for.
The aluminium rectangular profile features reinforced ribs for high stability and a secure grip. In addition, Stabila has upgraded the end caps of the range with non-slip stoppers to ensure a firm hold when marking.
"If you're looking for an accurate and reliable spirit level with a slim profile, the STABILA 80 AS series is the perfect choice. The reinforced aluminium rectangular profile, together with Stabila's  one-of-a-kind installation technology, ensures accuracy and a long service life," comments Stabila Australia managing director Kathy Jack.
"As is the case with all Stabila spirit levels, the vials and measuring surfaces in the series 80 AS are permanently fixed, having been aligned perfectly with one another during the production process. This unique mounting system ensures that the spirit level measures with absolute precision even after many years of use."
The 80 AS series has two measuring surfaces for accurate measuring in all positions, even in reverse. Measuring accuracy is ± 0.5 mm/m in normal and ± 0.75 mm/m in reverse position. Both measuring surfaces are covered with Stabila's chip-resistant electrostatic powder coating. This ensures that the level is easy to clean, while protecting delicate surfaces.
Whether the level is used for frequent marking or requires magnets for aligning and adjusting objects, the 80 AS series offers a spirit level for any application:
Type 80 AS: Standard model with one horizontal and one vertical vial, available in lengths from 300mm to 1200mm.
Type 80 AS-2: with additional second vertical vial. Available in lengths from 600mm to 2000mm.
Type 80 ASM: with one horizontal and one vertical vial plus rare-earth magnet system for exceptionally strong adhesion to metal objects. Available in lengths from 400mm to 2000mm.
Types 80 AS and 80 AS-2 are particularly suitable for gardening and landscaping work, reinforced concrete construction, carpentry as well as joinery and tiling. Type 80 ASM is primarily suitable for measuring tasks in metal construction and drywall construction.
For more information visit the Stabila website or contact sales@hordernandco.com.au.