Stress less on site measurements
Looking to save time, streamline workflow and simplify the estimating process? A new app promises to make measuring and quoting a breeze thanks to augmented reality technology.
"There's an app for that."
You've likely heard that sentence a few too many times. But there really does seem to be an app for everything these days. Most are useless, others are addictive and then there are some that actually make life a little easier.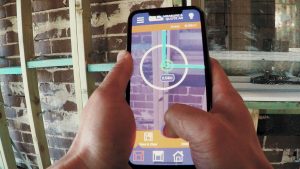 The latter is where Measure & Quote AR fits in.
As its name suggests, the recently released app calculates surface areas, computes required building materials and has the ability to email your chosen supplier with a material order. Not bad, hey?
The app uses your smart phone's camera to measure walls, floors and ceilings. It works on any Apple or Android device with a dual-camera augmented reality capability.
"We have created patent pending technology and applied it to a base of the Google AR measure kit. The app measures linear and complete square meterage and has the added benefits of the ability to add cut-outs, for windows and doors etc., if required," says AILD managing director Michael Reid.
This information can be used for quoting, or simply to measure room spaces to calculate services requirements.
Michael has worked in the building industry for 25 years and always embraced new technology. He was doing research for a presentation on the future of building material sales and was working on an e-sales solution for building materials. He came across a number of new technologies being trialled but didn't think they were delivering everything that the trades needed.
"I could not believe how measuring and quoting was still being done on site and decided there was still a gap in the market. At the time the base technology had not been created, but it was not long after that it was so I grabbed the opportunity to see what we could develop."
Michael says the app is easy to use and encourages users to familiarise themselves with it before taking it onsite.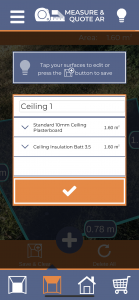 "Like any new technology people need to spend time working it out but, in our testing, we found users only needed 10-15 minutes. The helpers on the screen make it easy to get the hang of and there are instructional videos for those who find them useful. Once someone has used the app it's very easy, and very fast to use.
"Measuring using the traditional method takes an average of 45 minutes on-site, plus all the time spent back at the office calculating and generating the quote. Measure and Quote AR shaves that time down to just a few minutes," Michael says.
As you can no doubt appreciate, an app like this can only be successful if it's accurate, so a lot of testing goes on in beta versions before the product can hit the market.
"Measure and Quote AR is accurate up to 99% of the time. Information is captured through the phone's camera. Just don't expect the phone to suddenly turn into a laser," Michael says.
"We have done a substantial amount of testing. We wanted to make sure we were delivering a product that is truly useful and really works as it should. The most important facts when looking for accuracy are the users and the phone."
To measure a space, load the app and point the crosshair indicator at the area you wish to measure. When the indicator goes green, move the camera to capture the space. Measurements can be taken in either metric or imperial.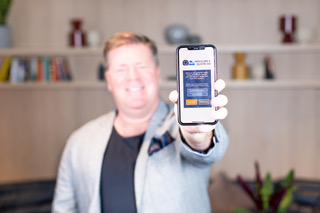 If you don't need to include measurements for a certain area, such as a window in a wall, it can be subtracted by using the app's innovative 'cut' feature.
Once you've logged your measurements, you can assign each one to a specific material and send a quote to your supplier.
"Any builder or tradie can set up their preferred suppliers in the app. We recognised that many trades have set pricing with their suppliers. When the measurements are taken, the quantities can be sent for quoting or ordering to any email the user wishes – so it could be to a preferred supplier or a potential new supplier if looking for a comparable quote. Everything is sent immediately from the phone," Michael says.
Virtual reality (VR) and augmented reality (AR) technologies have come a long way in a short time, especially in the building game. I have seen some amazing new developments sold only through VR and you really can't tell you aren't actually on site, there is so much detail.
"We are working with many companies, some leading global brands in several companies and some domestic, on their own version of our app. They have recognised the technology we have created and want to use it to help their brands and their products."
Measure & Quote AR is available on the App Store and Google Play.