A picture is worth 1,000 words
Jerry Tyrrell continues on his mission to make standards more digestible with the introduction of Jerry's Tools.
I was the curious kid who saw patterns in everything, was always drawing and looking longingly at Lego in toy shops. I dreamt that my parents had enough money to buy the cool, complex bricks and curved pieces.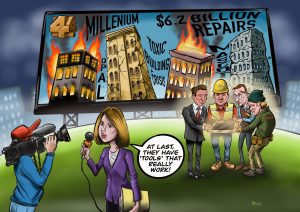 I was the labourer who worked for expert tradesmen and gained their trust so they told me about their century old skills. I was the designer who was fascinated with how some builders created trouble-free masterpieces and others delivered leaking, cracked and rusting nightmares.
And I'm proud to say that my lifelong interest in best practice has empowered Tyrrell's Property Inspections to help more than 120,000 Australians get their building work right for nearly 40 years. These customers have rarely made mistakes. And, if they have, they were only minor ones which were proudly fixed and learned from.
Yep, these foundation principles are needed. Most of the expensive to fix problems happen because of basic, unintentional mistakes. I challenge the ABCB and Standards to jointly prepare these. I am happy to structure what is needed like I did for the Universal Building Terms.
In essence, the NCC already says in its Volume 3 and repeats in most sections that anything we build must not harm (injure / cause unreasonable loss / dysfunction). Ideally this should eventually extend responsibility to suppliers and manufactures – Ministers of Fair Trading please take note!
I do not want to get too specific but I think the minimum starting point should be materials, products and systems used:
1. be approved by all relevant authorities
2. be fit for purpose for their location and intended function. Including meeting:
durability guidelines set out in ABCB Durability in Buildings
reasonable trade, manufacturer and industry practice
3.and:
 be installed by persons qualified, licensed and, where required, approved by manufacturer
 left complete, tested, commissioned, clean, warranted and in agreed condition
 be able to be maintained safely and without unreasonable cost.
I reckon all of us need to 'discover' this wisdom in the first year of our courses – alongside the 10 Classes of Buildings. And, whenever in doubt, use these to make better decisions every step of our career in building.
Tools of the trade
Many of you know what I have been doing to translate 20,000+ pages of unclear words into easily understood illustrations.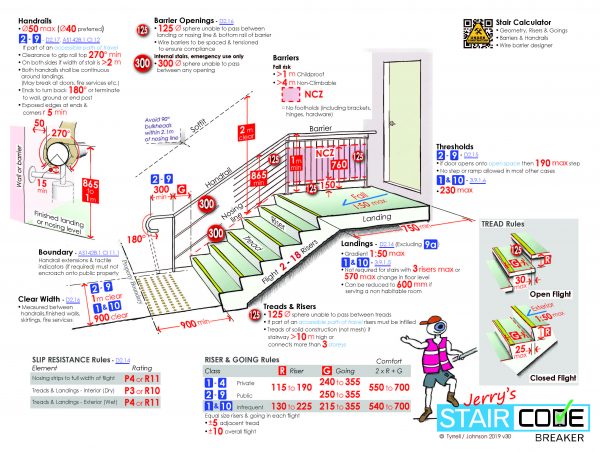 Including initiating a universal Dictionary of Building Terms – ABCB's Trent Bourne and Standard Australia's visionary Kareen Riley-Takos have made this happen.
Hopefully, a joint list of Performance Objectives will follow so every future building student will 'build' their knowledge with a clearer understanding of core principles.
Now the good bit. Last issue Jeff Patchell reminded us that our industry have become a punching bag for critics because we make so many unintentional mistakes. We tried a few names for our illustrations such as CODEBreaker and SMARTBuilding before one of the team suggested Jerry's Notes. I didn't like my name being used for what is a team effort… but it may might personalise things and make it memorable.
The images summarise general compliance and best practice and I have always thought of them as resources and 'tools' for all of us to have at our fingertips. So maybe like Craig's List, Jerry's Tools might fly? And certainly, now that technology has made it possible, these tools will digitally fly into our nail bags or onto our drawing boards and provide instant answers to stop the cycle of unintentional mistakes.
Solutions for 2020
Every day we solve problems. I'm sick of going on site and seeing basic work done wrong: dirty substrates, joints poorly detailed, flashings missing or not turned up properly… They're often no brainer mistakes such as using corrugated roofing for flat roofs or planters built up to balcony balustrades.
We need the 'tools' to stop these basic mistakes from happening.
Jerry's Tools might be the best way to build properly, make more money and not be 'punched' by the media and politicians anymore.
And YOU can make a difference by emailing me your advice, tips and feedback ANY TIME jwtyrrell@tyrrells.com.
Let me know any thoughts at jwtyrrell@tyrrells.com.