Insert tab A into slot B – prefab building gets a boost
With the demand for housing increasing, the focus is on providing smarter, more affordable and more sustainable construction solutions. Anna Hayes found out more about a new course on prefabricated building systems.
As with any industry, adapting and moving with the times is crucial in the construction sector where there has been a steady shift towards prefabricated solutions.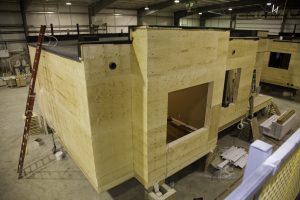 Not only is prefab building cost effective but, given that there is a housing shortage, time is also of the essence and this type of home can be installed much quicker than a standard build. Prefabricated buildings can also be built more sustainably and modules undergo strict quality control before being deployed to a site.
To that end, the Victorian Workforce Training Innovation Fund (WTIF) has funded a new qualification in the installation of prefabricated building systems (timber) at Box Hill Institute.
Box Hill Institute chief executive Vivienne King explains that while training has to meet the current needs of employers, there is also an onus on them to support the industry by addressing emerging skills gaps.
"In the building and construction industry, this continues to be improving safety, productivity and contributing to a low carbon economy. It is also the application of new materials and digital technologies, and the emergence of new processes such as off-site manufacturing."
The prefabricated building market is expected to support links between the construction and manufacturing sectors, with advanced manufacturing processes coming into play as a result. New technologies and innovations, Vivienne says, will transform the industry to provide smarter, more affordable and more sustainable construction solutions.
At present, prefabricated building systems make up about 3% of the market.
"The option of using prefabricated buildings systems as an alternative to traditional construction methods in Australia is expected to increase due to skill shortages, housing shortages and the need to introduce manufacturing processes into the construction industry."
The new course started in October and has 19 students – 15 men and 4 women – on its books. It is designed to upskill people in the workforce and to develop competence in a number of areas. Applicants must either be employed in the construction industry or demonstrate significant knowledge of it in order to qualify for a place on the course.
Vivienne explains: "Some students have bachelor degrees or are trade qualified carpenters or final year apprentices. Other students are TAFE teachers and existing building practitioners."
The course is delivered in 10 three-hour sessions and covers a range of subjects including: installation of prefabricated timber building systems on-site; application of OHS requirements, policies and procedures in the construction industry; application of building codes and standards for prefabricated building systems; and the setting out process.
Students can also choose one of two electives: reading and interpreting plans and specifications; and the use of mixed or blended reality technologies.
The latter introduces students to working with augmented reality in setting out, maintenance and installation work. The emergence of building information modelling (BIM) was identified by Box Hill industry partners and the unit recognises the importance of introducing digital tools to the workplace.
Vivienne adds: "Many small to medium enterprises may still be many years away from implementing prefabricated building systems but Box Hill Institute and our industry partners acknowledge the growth in the application of digital technologies, BIM and connectivity via the Internet of Things."
The prefab building industry received a boost earlier this year when a grant of up to $2 million was announced for a new collaborative lab to help manufacturers to design innovative new prefabricated buildings. The Advanced Manufacturing Growth Centre will use the funding to undertake a feasibility study and, from that, establish the new lab.
Minister for Industry, Science and Technology Karen Andrews is hopeful that the lab will support work on a wide range of projects, from tiny houses to commercial space, where there has been some growth in popularity.
"This sector is starting to build significant momentum and currently represents three to five percent of Australia's $150 billion construction. This share could grow to 15% by
2025, creating 20,000 new Australian jobs and adding $30 billion to our economy," she said at the funding announcement.
Prior to this, funding of $4 million was awarded to the Australian Research Council Training Centre for Advanced Manufacturing of Prefabricated Housing.