How collaboration between trades and ground engineering specialists can remediate properties
While cracked walls, uneven floors and jammed doors and windows can all be visible signs of potential problems with foundation ground, homeowners often initially call upon trades people to help restore their home to its original condition. It is during this process of inspecting and fixing these issues that ground engineering specialist, Mainmark, may be called in.
By working together, an assessment can be made about possible causes, the severity of the issue, and the best steps for remediation. In addition to arresting the immediate symptom, a longer term solution may be required to improve ground bearing capacity and re-level the impacted building.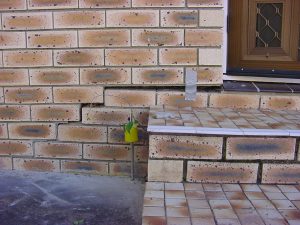 Consultation and referral between Mainmark and specialty trades, such as landscapers, plasterers, plumbers and builders can occur before or after ground improvement works have taken place, with different trades playing their own important role in the remediation process. Following are a variety of ground related issues that different trades might encounter on residential projects, which may indicate that ground improvement or re-levelling needs to occur.
Plumbers
Leaking sewer, stormwater and water mains pipes can wreak havoc on a home's foundations which is why it's critical to catch signs of a leaking pipe or cracked drain as early as possible. Soggy and saturated soil or water pooling around a home can weaken the founding soil. This can lead to homes subsiding at different points around the perimeter, or indeed over their entire footprint.
Damaged or disconnected downpipes and overflowing gutters can also create water ponding and sink holes as soils wash away. A licensed plumber can help to avoid longer-term ground problems and significant structural damage when called at the first sign of a leak.
Landscapers and Arborists
Landscapers are well trained to assess soil conditions at a property, while arborists can identify trees with invasive root systems that may be contributing to blocked drains and cracked water pipes. These can all be causes of a home's foundation ground subsiding. Aggressive tree roots can travel long distances resulting in serious damage to a home's foundations. However, trees can equally be beneficial for drawing up excess moisture from the ground, so removing trees can sometimes lead to differential soil movement.
Homeowners look to landscapers for guidance to help ensure trees are planted at an appropriate distance from the home, driveways, patios, and footpaths. Equally, landscapers may identify areas that would benefit from retaining walls to reduce erosion or advise on the impact that new paving or the addition of a swimming pool may have on site drainage.
Plasterers, painters and builders
Wall cracks are a common first sign of potential foundation movement under a home. A professional builder or plasterer could help differentiate between cracks that are minor, or possible symptoms of a more serious structural issue. Generally, small hairline cracks are not cause for concern and these are usually the result of seasonal expansion and contraction of soils beneath the building over time and can be patched with a flexible filler and re-painted. Problematic wall cracks will typically start at windows, doorways or corners of buildings and are usually wider than about 5mm (or the thickness of a little finger). That's when ground engineering solutions can be used to great effect.
Homeowners can take action to help fix cracked walls, caused by ground subsidence, by re-levelling the home's foundations using a non-invasive method such as Mainmark's Teretek® resin injection solution. While this will generally result in wall cracks narrowing or closing up, the area may need some cosmetic finishing. With brickwork, some re-pointing of mortar joints may be required and with plaster or render walls, some patching and repainting may be needed.
Maintaining and restoring homes that have been impacted by foundation issues is often a team effort and the type of trades required to support the remediation work will depend on the underlying cause. Mainmark has raised, re-levelled and re-supported homes and other residential buildings for more than 25 years, focusing on a fast, cost effective and non-invasive approach when compared to traditional underpinning methods. "Our experienced team works collaboratively on every job to help to get to the bottom of a broader issue," says Mainmark business development manager James O'Grady.
"It's important for us to consult with other trade professionals both during the assessment phase and as part of the remediation, where appropriate. It's through this process that more people become aware of our relatively non-invasive way to re-level properties, and why we've developed a strong referral network in different locations around the country over the last few decades," adds James.