Research shows what keeps business owners awake at night
New research from national business recovery and insolvency firm Jirsch Sutherland reveals cashflow issues – not JobKeeper – is what's keeping Aussie business owners awake at night. And many businesses are either already exploring insolvency or expect to in the next six months.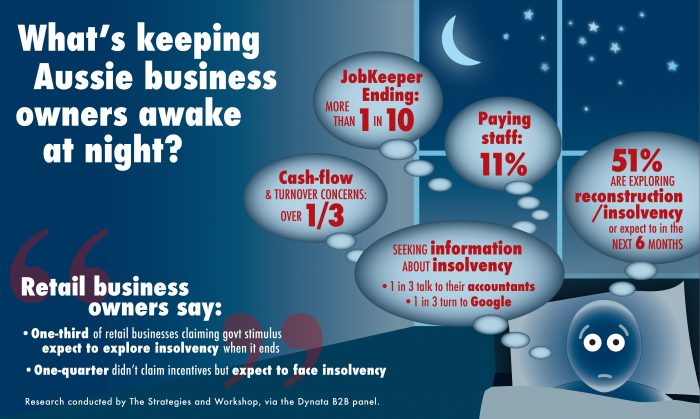 The independent survey of over 1,000 business owners/directors identified the key sources of current stress – and just 10% of respondents say JobKeeper ending was their primary concern. However, more than a third (36%) cited cashflow and turnover as the key causes of their stress. West Australian directors are most worried about cashflow while NSW directors are the least worried, the survey showed.
"More businesses fail due to lack of cashflow than due to lack of profit," says Jirsch Sutherland's national managing partner Bradd Morelli.
"If you're a business owner or director who's experiencing financial stress, it's more important than ever to assess your current and future cashflow situation and revenue streams, particularly taking into consideration when the government's 'life raft' will no longer be there."
The survey of businesses, more than half of which have turnover ranging from $1 million to $10 million, showed that over a quarter of businesses expect to explore reconstruction or insolvency in the next six months despite benefitting from JobKeeper and other government stimulus measures.
Another quarter did not claim payments but are also likely to explore ways to restructure or wind down their business. One in five took advantage of the measures and don't expect to restructure or explore insolvency once they end. Overall, Queensland respondents were most positive, with more than 57%  saying they're unlikely to explore restructuring or insolvency in the next 3-6 months.
"JobKeeper and measures such as the ATO's cash-boost scheme have certainly made a difference to the medium-term viability of these 20 per cent of businesses," says Bradd. "That's great news but it's still a good idea that they continue to assess their businesses and plan, both for current conditions and the long term."
And with over half of respondents experiencing hardship and currently exploring or expecting to look at restructuring or insolvency options in the next six months, where are they turning to for information? One-third will ask their accountant for a recommendation while over a third (34 per cent) will turn to Google.
"If you're under financial pressure, it's crucial to speak with a trusted adviser rather than rely on a search engine," says Bradd.
"Insolvency procedures and restructures can be complex and stressful, and it's important to appoint a practitioner that is a right fit for your business, takes the time to understand your business's unique issues and recommends a solution that achieves the best-possible outcome.
"It's also crucial for company directors to be aware of their responsibilities. While it might not be your fault that your business is in trouble it is your responsibility. It's your responsibility to gather all the available information to them make an informed decision – no matter what situation the business is facing."