Konecranes app quickly and easily records daily inspection findings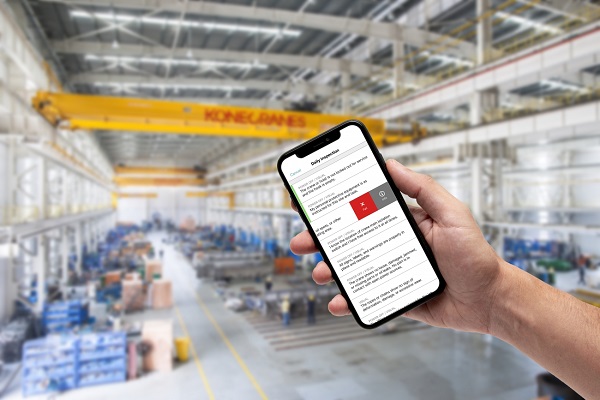 Global crane service provider Konecranes is introducing a new app that increases efficiency, optimises safety and digitises daily inspections.
Dubbed the CheckApp, it has been designed to help crane users quickly and easily record their findings when performing pre-shift and pre-list inspections as part of the required daily inspections.
Pre-start inspections are part of the owners' manual documentation of every crane and hoist, but Konecranes realised that thick paper manuals were not the most efficient way to conduct daily inspections.
A lot of countries require these pre-start inspections to be done as a matter of code compliance, so operators need to be the first to be responsible for their own safety, to make sure they are not involved in an incident with the crane due to a failure of a component.
"CheckApp was conceived as a great way to deliver an effective inspection format direct to any crane operator," Konecranes and Demag monetisation and light lifting sales manager John Jackman says.
"Being electronic, it also becomes an accessible permanent record, unlike paper, which can be lost or misplaced."
John was part of a team that developed the idea for CheckApp.
"Almost everyone has a mobile device of some kind. Using electronic technology allows us to not only provide a quality, convenient inspection template, but also allows us to build in additional reference for those learning to do inspections properly," he explains.
"In a practical sense, one of the most important functions the CheckApp achieves is that it improves the communication between a person identifying a fault and the repair of that fault by maintenance. No one wants an operator using a crane with a potentially dangerous fault condition."
The app can be downloaded for free from the Apple App Store and from Google Play for Android devices.