Kubota releases the R540 compact wheel loader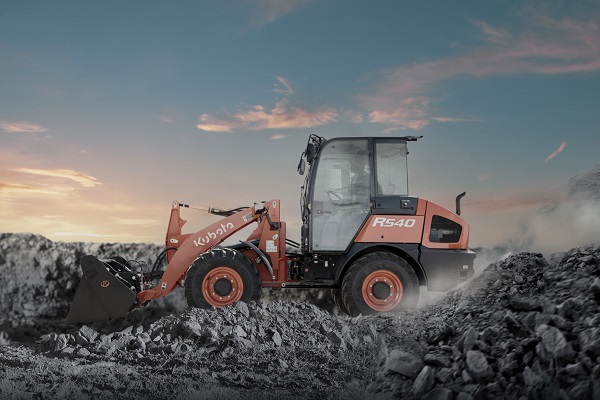 Kubota has released the R540, a compact wheel loader which comes to Australia with a range of features designed to improve operator comfort and useability.
It boasts a redesigned cabin, multi-function joystick and an increase in rated operating capacity, resulting in a smoother, more comfortable operation.
Kubota Australia senior product manager Lars Pasedag says the new R540 in cab and canopy model will continue the success of its predecessor the R065 and maintain its legacy.
"We're excited to improve our compact wheel loader range. The R540 has the same base platform as the R065, but added space, an improved dash design and updated multi-function joystick in the R540 results in better visibility and more intuitive operation across both the cab and canopy models," he says.
"By moving the control switches to the right-hand console, the new dash is a lot simpler and reduced in size. Not only is there more space for the operator, but the less cluttered dash results in a better view to the front wheels."
It also comes with a number of improvements on its predecessor including a pilot-controlled multifunction joystick and an integrated auxiliary vale button which removes the need for a separate lever.
"The new pilot control operated joystick and its smoother operation is in response to customer feedback, allowing users to open the four-in-one bucket while lifting or crowding. It's a seamless step-up for operators," Lars adds.
Also, reinforcements have been made to the main frame where the loader arm mounts which makes it easier for the operator to see out of.
Powered by a 51.0 horsepower V2607 engine with 2615cm³, the R540's engine reaches Tier 4 Final emissions with the addition of Common Rail technology and diesel particulate filter, resulting in a cleaner burning engine that reduces environmental impact.