Australia's first COVID-19 vaccination badge for tradies announced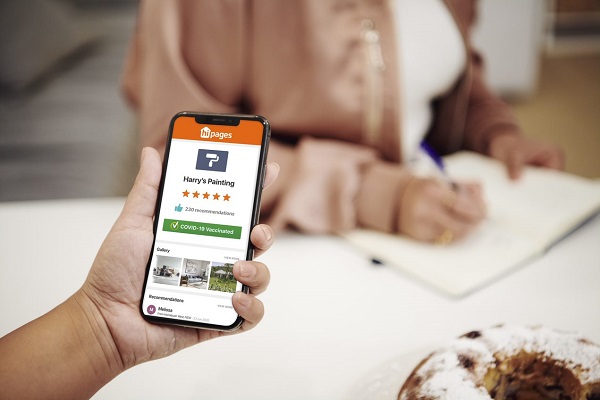 Australia's largest online tradie marketplace, hipages, has announced the rollout of its COVID-19 vaccination badge. It lets home owners know if that the tradie coming to their house for the job is fully vaccinated.
Fully vaccinated tradies in New South Wales will be able to provide a copy of their COVID-19 vaccination certificate to hipages via the hipages app from today. Once the certificate is checked as satisfactory by hipages, the tradie's online profile will receive a badge visible to consumers.
The rollout will then move into other states in the coming weeks.
In a step forward for an industry that is currently operating under varied restrictions locally and nationally, the hipages COVID-19 vaccination badge is aimed at helping tradies boost consumer confidence when improving their home.
Having had more than 1.5m jobs posted on hipages in FY21 – an increase of 12% on FY20 – hipages has benefited from the accelerated adoption of digital tools during the COVID-19 pandemic. The platform has created the option of this badge to make booking a tradie even more effortless for Australian homeowners.
NSW Government Health Restrictions, as of 26 August 21, state that construction workers in the Greater Sydney area must have had the following prior to work: Two doses of a COVID-19 vaccine; one dose of a COVID-19 vaccine at least 21 days prior; one dose of a COVID-19 vaccine within the preceding 21 days, and have been tested for COVID-19 within the preceding 72 hours (three days); or a certified medical contraindication and have been tested for COVID-19 within the preceding 72 hours (three days).
The introduction of the hipages COVID-19 vaccination badge is the next step in technology helping out the tradie industry and making it more transparent, efficient, and seamless for everyone. hipages chief executive Roby Sharon-Zipser explains why the badge is an important move.
"This badge lets customers clearly see that tradies are ok to work. Higher vaccination rates in the trade industry will help protect the community and show customers that tradies are doing the best they can to operate safely," he says.
"While the appetite for home improvement jobs remains strong, our tradies are facing what is likely to be their most testing time as a result of restrictions designed to keep everyone safe. We aim to make things easier for them and their customers."
The agility to move quickly and provide an opportunity for transparency between tradies and their customers in the form of this badge is another reason why hipages is the trusted brand authority among tradies and homeowners alike.