National Asbestos Awareness Month: Stop playing renovation roulette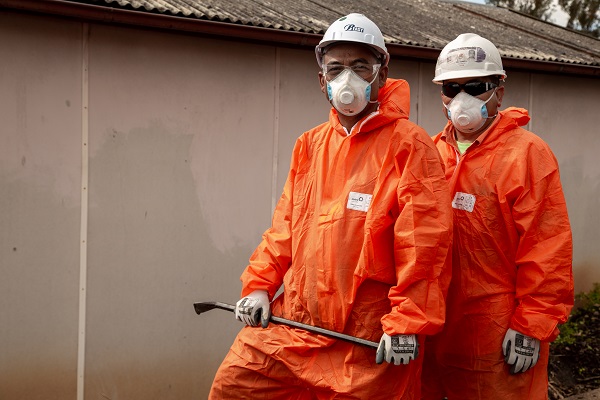 Amid Australia's multi-billion dollar home renovation boom, the National Asbestos Awareness Month campaign (1–30 November) aims to reduce asbestos-related diseases by urging renovators and tradies to 'stop playing renovation roulette because it's not worth the risk' and start to respect the dangers of asbestos just as they respect the dangers of electricity when renovating or maintaining homes.
Australia has long been a renovation nation, however, the popularity of renovating has reached frenzied proportions with the billions of dollars saved during the pandemic now being spent on renovating homes.
With one-in-three homes containing asbestos and more than one in three homeowners currently undertaking renovations (a 37% increase); serious concerns have been raised that DIY renovators and tradies might be risking their lives and the lives of their families if they fail to respect the potentially life-threatening risks posed if asbestos is not managed safely.
Asbestos lurks in one-third of Aussie homes

Any home built or renovated prior to 1990 may contain asbestos
4,000 Australians die annually from Asbestos-Related-Disease compared to:

Electricity: 2.7 homeowners and three workers from electricity, gas, water and waste service annually
Road deaths 1,195 road in 2019, 1093 in 2020
COVID-19: 1,448 Australians since the pandemic began

There is NO cure for mesothelioma or any asbestos-related disease
Symptoms do not present for 20-40 years
Following diagnosis, survival is often as short as 10-12 months
If undisturbed, well maintained, and in a stable, sealed condition, asbestos is unlikely to pose health risks.
Stop playing renovation roulette and start respecting the dangers of asbestos – it's not worth the risk!
Now in its tenth year, Australia's longest-running, multi-award-winning annual Asbestos Awareness campaign continues to warn homeowners, renovators and tradies of the dangers of asbestos and directs them to Australia's leading, most comprehensive, trusted asbestos information source here. Since launching in 2011, the website has had over 2.2 million pageviews and more than one million sessions.