Buildcorp completes $150m construction in record time using high volume prefabrication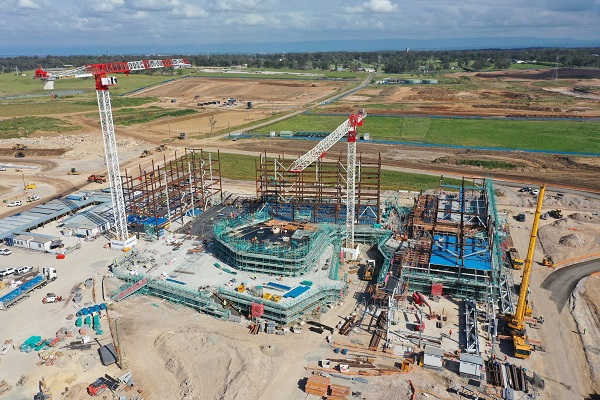 Buildcorp has successfully handed over the $150 million Santa Sophia Catholic College at The Gables in Sydney's Box Hill. The Catholic Education Diocese of Paramatta's new multi-storey, co-educational Kindergarten-to-Year-12 school will cater for up to 1,860 students and 130 full-time staff members. The College was designed by BVN Architecture and delivered by Buildcorp in just 16 months on site due to extensive use of prefabricated materials and a high level of quality control.
Buildcorp drew on its vast experience delivering large scale education facilities to develop the design during an Early Contractor Involvement (ECI) process with key partners including TSA (project managers), BVN (architects), Northrop (structural engineers), WT Partnership (QS) and Euroline (joinery). The team worked closely to shape the building design from the outset, using an off-site prefabrication strategy and building information modelling (BIM) to coordinate key areas. The solutions that were developed helped to achieve the architectural and pedagogical design aspirations and significantly reduce the on-site delivery time.
Buildcorp managing director Tony Sukkar AM says: "The innovative prefabrication strategy and game-changing partner collaboration enabled this project to be delivered swiftly with a very high quality outcome. The most effective off-site prefabrication solution was developed for a range of building materials to reduce construction time and increase quality control and safety."
The team developed a design that offered four different façade types across 2,000 façade panels and 1,600 balustrade panels. This helped to realise the architect's intent for curved, aluminium curtain walls that transition into balustrades and concrete decks. Full-scale façade mock-ups were created to validate the quality of the design and performance, and to ensure they were weatherproof.
The prefabrication solution ensured that 70 per cent of the joinery was made off-site by Euroline who sourced 100 per cent Australian-made materials for the joinery and interior panelling. Prototypes were created in the Euroline factory early in the process to enable the team to inspect samples before signing-off on full production.
Engaging with other key subcontractors early in the process enabled a more seamless process, with façade and steel subcontractors on board before the design was finalised. To manage supply chain capacity and risks, the structural steel prefabricated elements came from several supply chain locations within NSW.
Tony adds: "The construction team delivered the project throughout the pandemic and used Buildcorp's industry-leading safety system to proactively manage the risk. This, along with adaptive programme management, helped to keep the project on track and minimise COVID-19 disruptions. As a result, Santa Sophia Catholic College opened its doors to students, teachers and the school community with much elation after Sydney's lockdown restrictions were lifted."
Catholic Education Diocese of Parramatta executive director Greg Whitby says: "This has been an incredible project to be part of. The collaborative approach has seen the initial vision become a reality, bringing to life our goal of transforming learning for our students. We are so excited to see students interacting with the spaces and technology and seizing the opportunities to learn in new ways together."