Gyprock releases Gold topping compound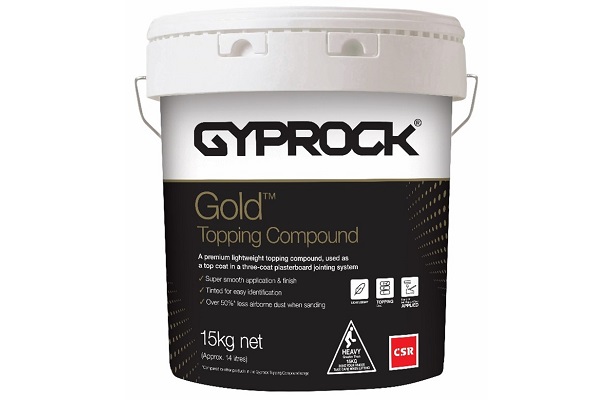 Australian plasterboard manufacturer, Gyprock, has launched the Gyprock Gold topping compound.
This new, premium lightweight compound is suitable for the top coat in a three-coat plasterboard jointing system. Gyprock Gold has been formulated to be easy to use with a super smooth application and finish due to its creamy consistency, allowing contractors and tradies to work quickly and efficiently.
The Gyprock Gold is also the first topping compound within the range to include additional features, such as a light-yellow tint for easy identification over previous coats that ensures a uniform finish. The new topping compound has also been engineered with Less Mess technology with over 50% less airborne dust generated when sanding.
Formulated to a consistency suitable for both mechanical and hand tool applications, Gyprock Gold is the perfect product for contractors looking to achieve a premium quality finish on every job.
Gyprock Gold is available from hardware stores and Gyprock Trade Centres.