Queensland home wins HIA's highest national housing award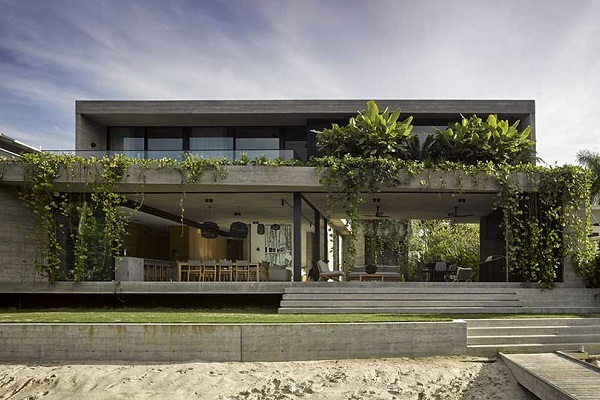 JW Constructions in Queensland won the pinnacle award at the 2022 HIA-CSR Australian Housing Awards, being presented the HIA-CSR Australian Home of the Year award for a skilfully designed home that reveals open-plan living at its best.
The Housing Industry Association (HIA) Awards were announced on 23 April 2022 in front of an audience of industry leaders and home-building consumers.
The winning home's combination of board-formed concrete paired with warm wood-grained accents creates an inviting interior. Outside, natural greenery drapes elegantly from the expansive upper-level gardens, a verdant and tranquil contrast to the angular lines of the home.
At the heart of the home is the central courtyard and north-facing swimming pool. Submerged views can be enjoyed from the lower level rumpus area and the temperature-controlled wine cellar. The home also won the HIA Australian Custom Built Home, partnered by Beacon Lighting.
The Australian Housing Awards recognised exceptional projects by builders and designers from all around Australia.
Wagga-based (NSW) building company P.A.H Innovative Construction was named HIA Australian Professional Small Builder/Renovator for their continued commitment to apprentices and students, having provided work placements to eight students in the past 12 months and employing school-based apprentices. The category is partnered by Companion Systems.
Victoria's Rebecca Bishop from Elite Building Services won HIA Australian Business Partner, partnered by HIA Insurance Services, for being a true all-rounder in her business, local community and in giving back to the building industry. This is the second time Rebecca has won the HIA Australian Business Partner award, previously being awarded in 2020.
Critharis Constructions in NSW won HIA Australian Renovation/Addition Project for an impeccable five-bedroom home spanning three levels. The difficult renovation was applauded by the judging panel for its complexity. The category is partnered by COLORBOND steel.
The HIA-CSR Australian Housing Awards are the ultimate platform to showcase the talents of the nation's top builders and designers. Winners are selected from state-based finalists, with awards in 23 separate categories including Professional Builders, display home, apprentice, bathrooms and kitchens (see full list below).
HIA managing director Graham Wolfe says the HIA-CSR Australian Housing Awards recognise the best in Australia's residential building industry: "HIA is committed to recognising the outstanding achievements of our members. The HIA-CSR Australian Housing Awards allow us to acknowledge the skill and commitment of our members who excel in building exceptional homes, kitchens and bathrooms and have highly successful businesses.
"The workmanship of Award winners is exceptional; demonstrated in projects that push the boundaries in design and innovation. It is my absolute pleasure to congratulate each winner for their hard work and commitment to excellence.
"My congratulations also goes to our future tradespeople – our apprentices – who strive to be the best in all their pursuits. And to the professional builders and business partners who are ahead of the game in customer service, design and innovation, building quality and business practices."