Digital innovation: The future of Australian construction industry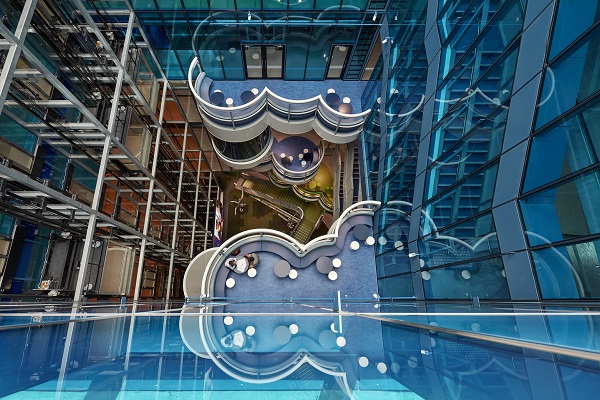 The pandemic and, more recently, international sanctions against Russia have been a rude awakening to many Australian businesses who had been delaying the uptake of digital. Not only has the ongoing crisis dramatically forced these organisations into rapidly utilising innovative technology, it has highlighted the importance of technology in the modern day world.
This has been signalled by the Australian Government, with the 2022/23 Federal Budget investing $1.3 billion in improved communications infrastructure and connectivity in our regional, rural and remote communities.
Traditionally, the construction industry has been the furthest behind in digital implementation, ranking the second-least digitised sector in the world in 2016. However, more recent studies have shown that the Australian and New Zealand construction sector is starting to make the switch, with nearly 40% of companies planning to establish a digital transformation roadmap.
"While we are seeing some improvement within the industry, there is still a long way to go. From supply shortages to staff absenteeism, the pandemic has shown that the industry can no longer lag behind when it comes to the adoption of digital innovation," Hansen Yuncken national Building Information Modelling (BIM) manager Paul Nunn says.
"Digital transformation is about creating a new model for innovation across our business. In construction, given the challenges of connecting vast volumes of data and people, our focus of this change is on connection – connecting people, processes, data, workflows and project phases."
Connected construction and integrated technologies save time and money and improve project efficiency and safety by allowing the project team to easily collaborate and share information, whether they are in the office or out in the field.
Drone deployment, in particular, has been a game-changer for Hansen Yuncken throughout the peak of the pandemic, according to Mr Nunn. Once programmed, this innovative solution can reduce the need for constant on-site visits, using cloud-based analytics to effortlessly capture real-time footage that can be viewed directly from the user's computer and shared through our BIM 360 cloud-based project collaboration and management system.
"Not only is this another effective way of communicating with clients and stakeholders, but it also limits the detrimental impacts of prolonged lockdowns and COVID-19 outbreaks across our worksites," Paul adds.
"Recently, this technology helped our team overcome a time-sensitive challenge when undertaking work at the University of Queensland's recently opened Andrew N Liveris Building. The initial tenders came in well above the University budget and required a significant post-tender Value Management session with the University and all project stakeholders to bring the scope and overall cost back to budget. At the commencement of the project our team identified that there was minimal survey information or as-constructed data available, drone deployment enabled our team to secure this information promptly and minimise delays to the program.
"Throughout the project – which saw the installation of a suite of 16 specialist laboratory gases, and a manifold exhaust system of 73 fume cupboards – drones were also used to record in-ground services, making the design and planning process more efficient.
"In particular, this assisted the project's extensive value management exercise involving significant building redesigns to achieve a saving of $20 million without impacting the essential function and vision for the building."
While cloud technology was making waves throughout the pandemic, Paul points out that AI was also key to maintaining operations during this time: "AI-based technology can help project managers effectively map sites, sharing real-time information with stakeholders and clients from projects in regional areas or hard to travel locations. 3D helmet cameras are a relatively new technology, which is changing the nature of data available on projects daily and for historical reference.
"While on-site, selected Hansen Yuncken staff walk through the development with specialised cameras mapping their path while digitally converting images to create an online 3D map that stakeholders and managers can view directly from their respective offices.
"Cloud-based project collaboration and management systems integrated with innovative technology such as 3D cameras, drone deployment and AI can now be used to save time and money for clients and contractors alike, at almost all stages of the construction process."
Mr Nunn says digital modelling, such as BIM technology, can also help the industry plan projects in a digital environment before work begins.
"This allows the physical structure and team workflow to be mapped out ahead of time so potential issues can be averted. It's also a great tool to help communicate with clients on how to progress the project without impacting their day-to-day work," Paul adds.
"The University of Queensland Andrew N Liveris Building was an example of this. After linking BIM to the design, our team noticed some critical design anomalies which, without the technology, wouldn't have been picked up until we'd reached the construction stage.
"This enabled us to instead, utilise our time to focus on other areas requiring creativity and innovative thinking. Most notably, the project's radial concrete cutting with less than a 2m radius, which involved extensive research and development to create cutting tools that facilitated exact curved interfaces between concrete and vinyl floor finishes."
According to Paul, while this technology has been around for many years and has globally proven its effectiveness, it is not widely accepted in Australia.
"While more clients are seeing the benefits of BIM technology, there is still a lack of appetite among the industry here in Australia. First and foremost, this comes down to a lack of knowledge and awareness among clients and building contractors," he says.
While Australia may struggle to keep up with global technological updates, Paul says there is a raft of innovative developments set to reinvent Australia's construction industry in the near future.
"Digital twins is one of the most up and coming pieces of construction technology that will heavily impact the requirements for design consultants and subcontractors in the preparation of models, collection of data and the way construction contractors share information with clients and stakeholders."
Digital twins allow for the user to visualise a 3D, real-time copy in the cloud of a project or service, while linked to that project or service. While its continual improvements are allowing the construction industry to become more efficient, Mr Nunn noted that this technology can help the industry pave the way to a greener future with its ability to highlight wasted energy to the user post-construction.
Paul concludes: "While we have always placed a large importance on digital awareness and capability when recruiting and training, COVID-19 has highlighted just how important cloud-based solutions are to the construction industry to adapt and improve moving forward. Technology is continually improving to pave the way for the future, making it paramount that the construction industry in Australia embraces it. Only then will we really be able to develop the buildings of tomorrow."