An ode to AWA'S former fearless leader
Following more than 15 years with the Australian Window Association (AWA), executive director and CEO Tracey Gramlick has drawn the curtains on an illustrious career in fenestration. John Power reports.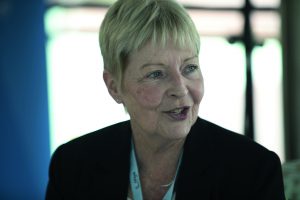 In our modern era of regulatory and commercial volatility, the AWA has been one of the few building industry associations to not only survive, but thrive.
The association's prosperity is largely attributable to the work of outgoing executive director and CEO Tracey Gramlick, whose participatory leadership, fierce pride in the industry, and pragmatic negotiation skills have helped raise the profile of the glass and window sector in Australia and set the scene for self-controlled industry growth for many years to come.
Tracey joined the AWA in 2003 at the invitation of the board and former CEO Ian Frame, who recognised that Tracey's unique talents as a design engineer, gifted administrator and negotiator, as well as respected educator would help bring a new level of professionalism to the association.
After serving five years initially as technical director, Tracey was appointed executive director and CEO in 2008.
During her 15-year involvement with the AWA, membership numbers swelled from 280 to 680 – a remarkable feat in the context of the static or declining fortunes of so many other industry associations during this period.
I'LL TAKE 'SOMETIMES'…
Tracey leaves behind an association that is highly regarded and admired for its excellent training programs, peerless industry advocacy, direct involvement in governmental policy, and fearless ability to shape its own destiny. This status is the result of a far-sighted and strategic approach to core industry matters, including member training, product compliance and conformance, as well as regulatory reform.
"The interesting thing is: the AWA is 30 years old this year, and when we look back at why the association was established, the same core problems apply now," says Tracey. "It was about industry skills and knowledge – training, that is the specific skills in the industry as opposed to generic or vanilla sorts of training programs that were available in universities and schools.
"Remember, also, that the association was started when the government decided to introduce a seven-year warranty on housing, and the industry said, 'Oh my goodness, this will apply to all window and glass products,' which meant the industry had to get together and start to address issues like product compliance and conformity, as well as technical expertise."
In response to these significant challenges, one of Tracey's first steps was to establish the AWA as a formal registered training organisation (RTO), which ultimately facilitated the creation of the Australian Fenestration Training Institute.
Using her background as an accredited Cert. IV trainer, Tracey insisted that all AWA training programs be written in full accordance with Cert. IV protocols, thereby achieving the highest levels of training professionalism from the outset, and instantly garnering the cooperation of relevant tertiary institutions.
Upon her arrival at the AWA, Tracey also helped develop and expand existing association programs, most notably the Window Energy Rating Scheme (WERS), which had a stable of just 2000 products in 2003; under Tracey's stewardship that inventory grew to some 440,000 products by the end of 2018.
At a time when most other industry associations saw quality control and compliance measures as an 'imposition' on member companies, Tracey's instinct was to appreciate that the contrary was true: members would be best served by having greater, not lesser, involvement in regulatory oversight by taking ownership of schemes like WERS rather than wait for external parties to thrust such schemes on them.
In similar fashion, Tracey safeguarded and developed the AWA's status as an independent NATA-approved window product inspection agency. The value of this initiative, commenced under Ian Frame but dramatically expanded under Tracey's guidance, cannot be overstated. Not only did NATA accreditation guarantee that the association would be a credible leader in quality control and compliance procedures, but it also empowered members by demonstrating their willing adherence to the highest levels of independent scrutiny.
"And the interesting thing is we've actually thrived on that," she says.
"As an association – and against the judgement of some of the members – we asked, 'What do we want to achieve?' and we answered, 'We want every window in every building in this country to be fit for purpose, no matter where windows come from.
"You can't just say, 'Woe is us, windows are not compliant.' You have to be able to say we've got the solutions and here they are, and this is what we want from you in return. It may only come off sometimes, but I'll take sometimes…"
GLOBALISATION RULES
Tracey's other great accomplishment was to realise that the AWA operates in an increasingly global commercial environment of free trade agreements and borderless manufacturing partnerships. Under Tracey's direction the AWA developed 11 formal Memoranda of Understanding (MOU) with a variety of window-based associations in other countries, as well as another 30 associations representing allied industries, to keep members fully apprised of both opportunities and challenges in a global context.
This tireless, global, and hands-on involvement in the industry has dignified the AWA as an indispensable and serious advocate for regulatory reform, giving the association prominence as a shaper of government policy while simultaneously winning practical concessions for members (such as workable timelines for implementing regulatory changes).
POSITIVE CHANGE
Tracey leaves the association as it enters a new era – on 1 January a newly incorporated venture began following the amalgamation of the AWA and AGGA (Australian Glass & Glazing Association).
New executive director and CEO Clinton Skeoch inherits an organisation that is robust, professional, comfortable with the need for ongoing change, and ready to face a brave new world of close cooperation with other building industry partners and regulators as energy efficiency takes centre-stage in the building sector.
Tracey, for her part, looks forward to a range of fresh challenges: numerous board appointments (both in Australia and overseas); as well as plenty of domestic and overseas travel with husband Tony.
Connection Magazines wishes Tracey a fulfilling next chapter in her career.