An Adelaide building company is the first in South Australia to achieve the new Standard in safety as well as quality and environmental management. Can you do the same? JLB Adelaide senior management consultant Dan Hadley reports.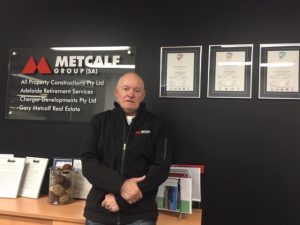 Safety is important when it comes to the construction industry. Safety begins with diligence and care but more is required to truly ensure the safety of all stakeholders. Good safety management means setting the bar high and with the introduction of the new international Standard for safety, ISO 45001:2018, earlier this year, the bar has been set even higher.
The new international Standard for safety was released globally in 2017 and came into effect in March of 2018. It means a greater emphasis on risk-based thinking, greater oversight and a more integrative and wholesome approach to protecting all stakeholders. An Adelaide building company has become the first SA-based construction company to achieve this certification while simultaneously achieving certification for quality (ISO 9001) as well as environmental management (ISO 14001).
Metcalf Group (SA) has a long and successful history of building high quality homes, commercial buildings and retirement villages in South Australia. The company is also a leader in shop fit-outs and renovations to properties of any scale. A 30-year-old family owned and operated company, it has always been focused on quality, safety and care for the environment. In January 2018, the company's founder and managing director Gary Metcalf decided that the company was ready to take things to the next level.
"We have always prided ourselves on going above and beyond, exceeding client's expectations and achieving certification would be the next step to formalise that," Gary says.
Metcalf Group (SA) is well-known in South Australia for a range of projects that include residential builds, retirement homes and refurbishments including such sites as:
Grange View Estate, a 60-unit retirement village built from ground up at Grange. Metcalf Group (SA) acted as the project management contractor on this project and saw the project from breaking ground through to handover.
Various retirement villages. Metcalf Group (SA) has been selected as the preferred builder for some of the largest retirement entities in SA such as Retire Australia, Life Care, ECH and ACH.
O'Halloran Hill and St Marys fire station refurbishments. Well-known and important to the community, these sites service a wide area providing key fire protection services and Metcalf Group (SA) was entrusted to refurbish and update both sites.
Blakeview Primary School, Salisbury Kindergarten, Kiparrin Special School, Golden Grove High School and Golden Grove Lutheran Primary School refurbishments.
Third party certification is an outward demonstration of quality, care for the environment and a commitment to safety. It lets the public, tender panels and other companies know that an organisation is serious about these elements in their business. Metcalf Group (SA) partnered with local professional services firm JLB management consultancy in Adelaide to work towards implementing a robust and effective integrated management system that would be compliant to the ISO standards. Far more than just achieving a certificate on the wall, both firms were serious about achieving a genuine outcome of best practice.
JLB's managing director, Sean Bates, and senior management consultant, Dan Hadley, worked with Metcalf's team to build further efficiencies and practices alongside a specialised quality management software system that would mean Metcalf Group (SA) could attain its goals.
Sean was pleased with the outcome of certification and the company's real commitment to the safety of its staff and other stakeholders, saying: "It's good to see a company so committed to achieving best practice and caring for their people as well as the environment."
ISO 45001 is an ISO Standard for management systems covering occupational health and safety (OH&S) that was officially published in March 2018. The ultimate goal and focus of ISO 45001 is the reduction of occupational injuries, accidents and incidents. Although there are some new requirements, the Standard is largely based on the elements of OHSAS 18001 and AS 4801, which ISO 45001 will be replacing completely over the next three-year migration period from 2018 to 2021. ISO 45001 also follows the high level structure of other ISO standards such as ISO 9001:2015 and ISO 14001:2015 which makes integration of these standards and systems much easier for firms.
Knowing that the new Standard had been announced and was due for release in early 2018, Metcalf Group (SA) and JLB chose to pursue the latest Standard and raise its internal practices to the highest level. Although AS 4801 is a highly stringent and practical standard for safety, ISO 45001:2018 is a contemporary and efficient application of good practices in maintaining safety. Superseding AS 4801, the new Standard will fully replace it by 2021. Thus, when the Standard was released and finalised, Metcalf Group (SA) was already compliant in principal and eagerly awaiting its audit.
Why become certified?
There are a number of reasons to become certified to the three most common ISO standards of quality, safety and environmental management.
These include:
Building greater efficiencies into the business that ultimately increase productivity. Quality is not just concerned with the end product or service but how the company gets there. Efficient, quality-based practices can lead to streamlined operations that produce more of what an organisation seeks to provide.
Cost savings that come from efficiencies and better practices. By seeking efficiencies in quality, organisations can save money, achieving their outcomes for less.
Controlling and minimising costly risks. By managing risks in quality, safety and the environment, organisations may prevent outcomes of costly loss that other, less mindful firms, may have to suffer as a result of not holding the same high standards.
Greater public and client perceptions. Customers and clients more and more continue to seek products and services that are not only competitive but are reliable, friendly to the environment and don't create harm. Many clients and customers are even willing to pay more to achieve this.
A more unified workforce. A workforce that pulls together to produce outcomes that are quality driven will likely be more loyal, productive and committed.
More business through winning contracts, tenders and new opportunities. Businesses that want to differentiate themselves from their competitors can do so through certification. Clients will know that an organisation has held itself accountable to high standards.
So, can small businesses or even sole traders attain certification to these standards?
The short answer is yes. Depending on what standards a business seeks to be certified to, any business can make the same achievement. There are a number of steps towards meeting the standard(s) that may include:
Developing a practical management manual for the business.
Conducting a Work Health Safety (WHS) review.
Developing proper job descriptions, work instructions and SOPS (safe operating procedures).
Assessing risks and developing Safe Work Method Statements (SWMS).
Conducting an initial environmental report.
Setting measurable goals for continuous improvement.
Having an emergency plan in place.
And, many more including ongoing maintenance and genuine use of the management system.
This can be a lot of work, especially for a small business. Interpreting the Standard and trying to reach that level of practice can be difficult but worth the effort. There are industry professionals in the market who assist businesses to achieve this certification such as JLB. A good quality consultant will help a business not only achieve certification but help the business improve and find greater efficiencies.
Metcalf Group (SA) after attaining certification…
Metcalf Group (SA) now proudly displays its certification on its walls in reception alongside its policies, licenses, awards and Club Quality membership (JLB). It's an impressive sight for anyone walking in and the staff can be proud to show them off. The company continues to maintain these standards as audits will continue every year through their chosen certification body TQCSI. Maintaining these standards means a commitment to continuous improvement and best practice.
But certification isn't the end of the story. Within three weeks of certification, Metcalf won several tenders with consistent feedback that the certification attached to their tender proposals was impressive. Other organisations can now see (through third party independent evaluation) that Metcalf Group (SA) is on the same level of quality as the Tier 1 firms in the industry.
"Attaching our certificates to our tenders, showing our certifications on the footers of our emails and displaying our policies and commitments at our office has given our clients even greater confidence that Metcalf is the best choice," Gary says.
Dan Hadley (MBA, BComm, IMC) is a senior management consultant and economist for JLB based in Adelaide, South Australia. His services include specialties in quality systems, risk, strategic advisory services and economic consultation.