Modern design gets gong at Building Design Awards
A family home nestled elegantly within established gardens, has been awarded Building Design of the Year at the Building Design Awards held on Saturday night at the National Gallery of Victoria.
The Building Design Awards (formerly known as the Building Designers Association of Victoria (BDAV) Building Design Awards) recognise excellence in building design.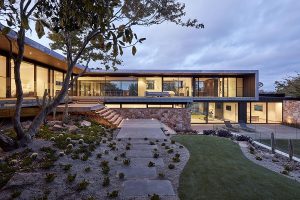 Designed by renowned building design firm Vibe Design Group, Moat's Corner demonstrates what good design can achieve. The home – which acts as a centrepiece within five acres of manicured gardens on a 53-acre property on the Mornington Peninsula – features clean lines, a soft colour palette, and natural materials, making it a clear standout.
The judging panel was impressed by the understated simplicity of the design and its innovative use of space and superior finishes.
Member of the judging panel, Ingrid Hornung said, "Moat's Corner is an outstanding example of how thoughtful design can create a visually bold result, while crafting a functional home for a growing family.
"Its elevated structure and floor-to-ceiling windows offer exceptional views of the natural surrounds; it is a sleek and contemporary home, built to last."
Vibe Design Group Lead Designer, Michael O'Sullivan said the home's slim line roof, raised floor and entry on the west side offers a transparent and picturesque outlook of the pool and surrounding gardens from every angle.
"The site's gardens are close to 100 years old, so it was important our design embraced the views and brought these into the home.
"The design for Moat's Corner is all about bringing a sense of ease and effortlessness – that modernist ethos – which we believe can change how people live, and that's what we are all about."
Moat's Corner is one of many impressive winners, as the awards featured the best of residential and non-residential design in Australia.