Winner of 'Work to Win' announced
The Stoddart Group 'Work to Win' promotion, as part of the company's 60th anniversary celebrations, has been run and won with Lewis Corker, a roofing contractor in Tullamarine, Victoria, being  announced as the major winner.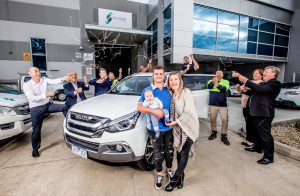 Lewis won the top of the line Isuzu white MU-X SUV valued at $55,000. Thousands of trades and contractors went in the running for the suite of prizes on offer, including 15 x $1,000 vouchers, which were also awarded throughout the promotion as mini-prizes.
The Stoddart Group 'Work to Win' promotion ran from 1 February–30 June 2019, and eligible trades and contractors in all Stoddart Group Divisions in Queensland, NSW and Victoria were awarded one entry for each day that they completed work for any Stoddart Group Division.
Stoddart governing drector Jon Stoddart says there were thousands of entries over the five-month promotion, which reflects the enormous contribution the trades and contractors make for the Stoddart Group.
"Our trades, contractors and labourers play a pivotal role to Stoddart's success with their tireless commitment to quality workmanship and loyalty," Jon says.
"It is always great to hear the excitement on the phone when a winner of such a significant prize is given the news."
Lewis could not believe the phone call he received from Jon announcing him as the winner of the 'Work to Win' promotion.
"You never quite come to grips with such a surprise phone call that you have won something big, especially an Isuzu. I had to pinch myself that I wasn't dreaming," says Lewis.