Will products work and who says so?
As demonstrated in recent times by cladding and other building material performance issues, there is no simple way of knowing if a product actually performs the way its supplier may claim.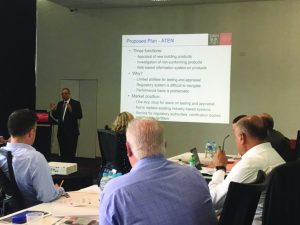 There is currently a shortage of independent verifiable information on the suitability of building construction products for intended use, particularly for new products.
Additionally, there are myriad issues with the use of non-conforming building products as highlighted by recent reports including the Senate Inquiry into non-conforming building products and the Shergold & Weir report.
To assist with the search for answers to some of these important market issues, a broad representation of the building industry met in February at Swinburne University in Melbourne, to discuss an initiative being led by Swinburne University.
Known as ATEN (Australian Technical Evaluation Network), this proposed scoping study is underway with the support of the Victorian Government and some other interested industry partners.
Forty representatives from a broad section of the construction industry met to learn about the project and add input in February.
Delegates learnt that the proposed ATEN comprises a consortium of building specialists and testing laboratories set up to evaluate building construction products and systems in terms of fitness for purpose, using the National Construction Code performance requirements as criteria for acceptance. Its aim is to build confidence and support for the Australian building regulatory system.
ATEN is structured to fit in with the current Australian building regulatory landscape after a study of international best practice including the European Union and Japan conformity evaluation systems.
Outlining the European experience on the day was visitor Dr-Ing Karsten Kathage of the German DIBt – Centre of Competence in Civil Engineering. The DIBt model offers an interesting blueprint to consider.
Evaluating all relevant performance aspects of a building product in terms of fitness for intended use is a very complex problem. Currently, there is no single independent institution in Australia that has this capability in terms of necessary expertise as well as testing infrastructure.
ATEN aims to harness the expertise and testing capabilities across the country to. It does not intend to replace any other existing mechanisms or bodies that have already been contributing to this task, only to provide further support for industry and consumers.
The intention is that product suppliers or building authorities will be able to approach ATEN with a product, its specification and intended use. ATEN will offer advice on the relevant NCC performance requirements that the product has to conform to and how to get the product tested and evaluated.
After receiving the relevant reports, ATEN will issue an appraisal report on the suitability of the product for intended use. This report will then be used by the product supplier to demonstrate the product conformity to the NCC requirements with the appropriate regulatory authorities and other building professionals.
Currently, such advice is not available from a single body, as suppliers often receive incomplete or potentially conflicting advice from different institutions especially if the product is not a deem-to-satisfy product. As such ATEN will support product innovation, enhance evaluation efficiency and increase confidence in product appraisal in construction. The project is being led at Swinburne by Professor Emad Gad and Professor Lam Pham.
Building Connection will keep readers informed of the project's progress.