Timber Offsite Construction conference 2021 will be a hybrid format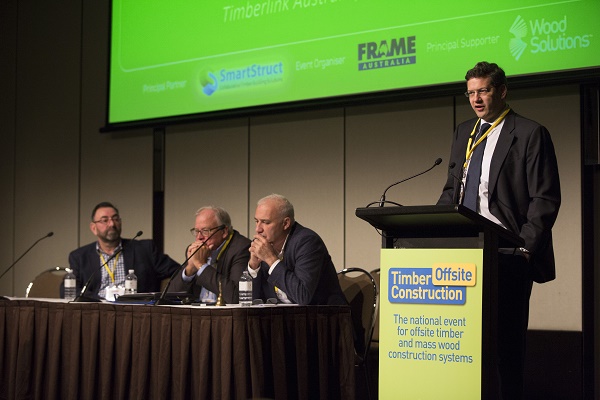 Timber Offsite Construction, organised by Frame Australia, has been a part of the building and construction industry for 22 years and the show in June 2021 will be a hybrid event, part in-person local presentations and part live stream from international speakers.
It aims to give attendees the best of both worlds for both local and international attendees.
"We are using the latest in communications technology to present the latest in timber technology," conference founder Kevin Ezard says.
"In 2021 we will look to the future – a net zero carbon future for the built environment – with the conference theme Timber & Technology: The Zero Carbon Future."
This aligns with the World Green Building Council statement this month that "the built environment sector can provide powerful solutions to the climate crisis". It noted that buildings are responsible for 39% of the global energy-related carbon emissions with the building stock expected to double by 2050.
"The time to act is now. To achieve net zero targets by mid-century and sustain predicted growth and urbanisation, we must decarbonise the whole lifecycle of our built assets – buildings and infrastructure," the council says
Speaker session topics will cover building design influences, construction productivity and manufacturing and technology, featuring global specialists in their fields.
A popular feature of previous events, the building project panels will adapt to the new format to facilitate lively interaction. Comprising developers, architects, engineers, builders and suppliers, the panels will discuss 'real-life' challenges and solutions across a range of innovative timber and mass wood projects.
Registrations are now open for the 2021 Timber Offsite Construction conference.