La Trobe University's sports stadium awarded the first 6 Star Green Star Design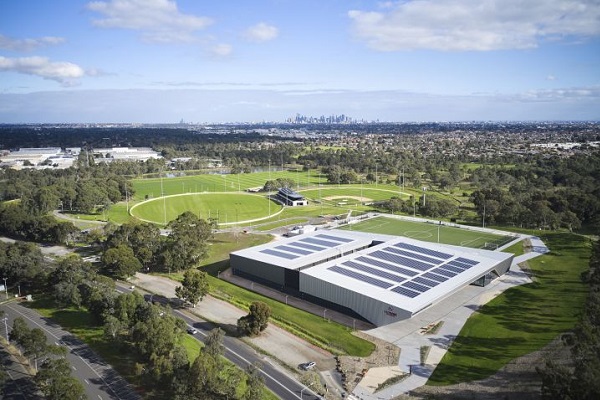 La Trobe University, Victoria has been awarded Australia's first '6 Star Green Star Design and As Built v1.2 certified rating' for a sport building by the Green Building Council Australia. The award recognises world leadership in sustainable building practice.
The stadium was built as part of Stage 2 of La Trobe's Sports Park development, part of its plan to transform the Melbourne-based campus into a "university city of the future".
One of the first key features of the build include 1,104 470W solar panels on the roof, amounting to 519kW which can generate about 724,000kWh per year. That number is more than enough to meet the stadium's electrical demands and can send excess energy to the rest of the campus.
Additionally, the design reduces the embodies carbon with a 15% reduction demonstrated due to structural efficiency. About 16% of the building by cost features accredited sustainable products including furniture, flooring and ceiling panels. This number exceeds the GBCA's criteria for innovation points.
It also boasts water efficient fixtures and controls with rainwater capture and reuse.
And finally, native landscaping, natural ventilation, local procurement, water sensitive urban design, an integrated waste management plan, green groundskeeping operations and a white roof which reflects the sun to reduce the urban heat island effect all contribute to the GBCA award.
La Trobe Dean, School of Allied Health Human Services and Sport Professor Russell Hoye says the state-of-the-art Sports Stadium had transformed students' experiences and was a valuable community asset predicted to have more than 10,000 visitors a week: "The La Trobe Sports Park is now home to 26 sports clubs, the Northern Football Netball League, Softball Australia and Softball Victoria and planning is underway to become home base for the Matildas, Football Victoria and Rugby Victoria.
"We're very proud of the fact that we've been able to create this incredible facility while remaining true to La Trobe's values of being sustainable, protecting our environment and aiming to achieve Net Zero carbon emissions by 2029."
The Sports Stadium was completed in January 2020 and includes an indoor stadium with six multi-purpose highball courts; a teaching and research building with world-class sport science and analytics research laboratories and office space for commercial tenants.
All newly constructed buildings at La Trobe are certified at a minimum rating of 5 Star Green Star under the GBCA's building rating system.